Bring out Your Perfect Smile with Porcelain Veneers in South Austin
Have you noticed some imperfections in your teeth? Are there cracks and chips on your teeth, noticeable discoloration, or minor issues with alignment? Do you want them treated to enhance the way they look, and your appearance as a whole? Regardless of how you acquired these defects and stains on your teeth, which may they be innate, results of injuries incurred, or some bad habits you may have like smoking, then the application of porcelain veneers may be the answer to your dental predicament.
HOW DO PORCELAIN VENEERS WORK?
Porcelain veneers are ultra-thin pieces of ceramic constructed into natural-looking tooth-colored shells that are adhered to your teeth one at a time.
They are exact-fitting for each of your teeth after having each of the outermost part of their enamel is removed by way of very careful and meticulous buffing, grinding or scraping. The completion of procedures will take you several visits to your dentist's office.
This is so because during the first phase of the process on your first visit to your dentist, after the reduction of the enamel on the surface of your teeth, impressions of your teeth will be gathered by your dentist, and you will need to sport temporary veneers first, for perhaps a week while the laboratory-made permanent porcelain veneers are being dexterously constructed.
After application of the permanent ones, the following office appointments will be for checkups. You dentist needs to ascertain that your veneers are working perfectly well for you, and there are not any forms of reaction.
WHAT DO YOU GAIN FROM PORCELAIN VENEERS?
You gain a great total makeover for your teeth after getting the procedure, which you can show off with your bright smile. Its application address a wide variety of dental concerns, so with this cosmetic procedure you are able to permanently conceal unwanted streaks of stain, worn-out tooth edges or any slight breakage.
Crevices are filled in and in turn, your set of teeth achieve a significant difference from what it previously was, and an enhanced degree of evenness and uniformity which results in a better alignment.
Porcelain veneers are fitted on each tooth accordingly, depending on the condition of that particular tooth. Therefore, each benefits from improvement in shape, length or even size, as you may be thinking about getting veneers to make alternations of your teeth which you may either find too small, or too large for your mouth and smile.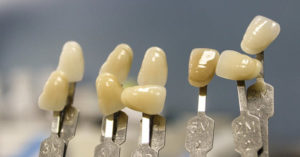 ARE YOU QUALIFIED TO GET PORCELAIN VENEERS?
If your teeth shows very evident flaws which you want rectified, this dental procedure may prove to be a very good option for you to pursue. Perhaps the physical conditions and appearance of your teeth may be satisfactory and you only wish to improve on their sizes, veneers may also be a good solution.
If you already have implants, crowns or permanent dentures, your dentist will definitely advise against veneers and instead suggest other options for you to opt for, since veneers exclusively work on natural teeth.
GETTING VENEERS? CHOOSE ONLY THE BEST.
South Austin Dental Studio offers this solution to correct your teeth's imperfections. Dial our office number now to arrange for a consultation meeting. Choose porcelain veneers and get yourself a set of real-looking pearly white teeth. Choose South Austin Dental Studio, and witness for yourself the dramatic transformation of your teeth into perfection. When it comes to the expert application of porcelain veneers, leave it to the skilled hands of the best dentist in South Austin.